The Easy Weight Loss Program
Kick start your health, get rid of cravings, and renew your body and mind in just 7 days.
Are you struggling with a few extra pesky kilos that just won't budge?
Are you determined to slim down and feel great, yet you have no idea where to begin?
Are you ready to kick the "extra baggage" blues to the curb and welcome endless energy and bliss into your life?
Do you want to experience newfound confidence in every aspect of your life?
Are you ready to get off the dieting rollercoaster?
You're probably nodding your head right now.
Those websites and magazines make all these sound so easy… yet when the rubber meets the road it feels like a losing battle to eat right and take care of your health.
Out of nowhere, you get these crazy cravings that just won't go away. No matter how determined you are and how much willpower you exert, you seem to have no control over your body.
Here's the good news. You're not alone, and you're not losing your mind.
Cravings and emotional binge eating are caused by a myriad of physical, emotional and psychological factors.
To stop yourself from sabotaging your weight loss effort, you have to get under the hood and understand where those cravings come from.
Constant cravings mean your body is not getting the right nutrients.
Unlike cookie-cutter solutions such as prescriptive meal plans or calorie-counting diets, learning how to fuel your body naturally and eat foods that minimize cravings won't leave you feeling deprived, exhausted or frustrated.
Instead, you'll learn to work with your body to sustain long-term results. In fact, many of my clients find the process not only easy but also liberating because they're no longer confined to a stringent list of "yes" and "no" foods for the rest of their lives!
Emotional binging is a sign that there's imbalance in your life.
That post-breakup tub of ice cream you see in every TV show is a reflection how women have the tendency to use food as a substitute for love.
A little sugary treat could give you a small pick-me-up when you feel down… but isn't it time to take off the Band-Aid and get to the root cause?
Empowered Wellness means you no longer let food control your life.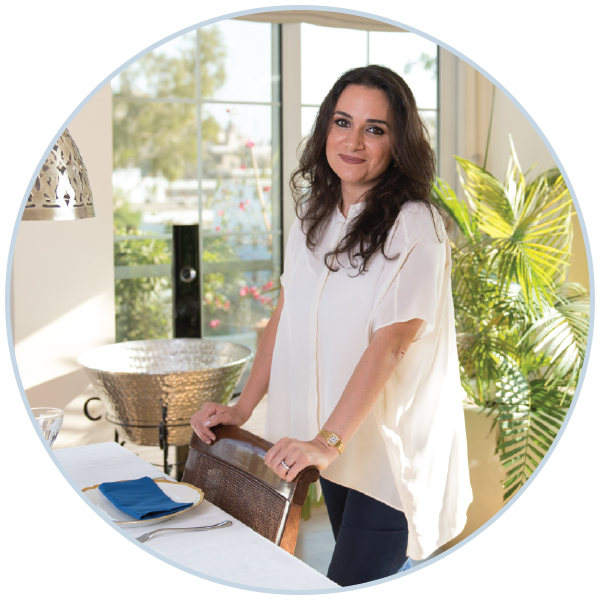 Hi, I'm Dana Dinnawi, holistic health coach certified through the Institute for Integrative Nutrition where I learned from top holistic wellness professionals.
Like many, I was sick of bland, low-fat boxed meals, being inundated with inaccurate or misleading health and wellness information, so-called magic pills, and fad diets.
Like you, I was frustrated with trying to lose weight in the midst of a busy life as mother, wife, daughter, friends and any other role life throws at us.
I didn't know how to control my eating, and I spiraled into being an emotional eater. I was ready to commit to lasting change, but I didn't know where to turn for help.
I'm painfully aware of how many different "diets" there are out there. I know how tempting they all are because they promise quick and easy results. And I had fallen for many of them!
But how many of those diets are actually healthy for you? None!
I knew I wanted a lasting change that would not only help me lose weight and look good but also feel healthy and energetic on the inside as well.
Getting healthy shouldn't be that complicated…
I created the Easy Weight Loss Program to help you cut through the clutter of misinformation, regain control of your health, eat clean, and lose excess weight so you can feel your absolute best year-round.
It all starts with you making the commitment to put your health and well-being front and center for just 7 days. Once you make the commitment, the real magic begins.
Now it's your turn to say "YES" to a healthier, happier and more confident you.
You are worth it… It's time to make yourself a priority!
In seven days, I lost an inch on my waist, and I didn't even work out. I feel incredible, and my clothes fit so much better. This is a big change from the yo-yo dieting I've done for over eight years. It feels good to have control over my health and eating habits."
This was the easiest weight loss program I've ever done. What I love the most is that this isn't a diet, it's a lifestyle. Now that I have the knowledge to make healthy choices, I know I'm going to get in the best shape of my life."
The Easy Weight Loss Program
You'll accomplish more for your health with just 7 days of clean eating than most achieve all year long.
The cornerstone of the Easy Weight Loss program is clean eating. For seven days, you'll fuel your body with delicious, nutrient-dense foods that fight toxins, burn fat, strengthen cells, and uplift your mood.
When you sign up, you'll get online access to a 7-day weight loss meal plan with recipes free of hormones, pesticides, and toxins that cause weight gain and cellulite.
You'll discover the psychology behind emotional eating and eat in a way that truly nourishes your body.
Your body WANTS to feel healthy. It WANTS to be working flawlessly for you. That's why, with the right dietary approach, you'll feel healthy and amazing very quickly – like flipping a switch.
This program will show you how to:
Use portion control – this is one of the biggest roadblocks to weight loss success if done incorrectly. You'll see how to do it the right way to support your weight loss effort.
Reframe your emotional eating mindset, so you can get rid of bad habits and integrate positive, self-affirming rituals into your life.
Balance your meals so you can supply your body with adequate nutrition. You'll shrink your waistline while improving digestion and nutrient absorption for more energy and vibrancy.
Restore your healthy gut flora (which makes up 70% of the immune system) and eliminate bloating, gas, stomach aches, and inflammation – the root cause of mystery aches and pains.
Decipher your cravings and say goodbye to your sweet tooth.
… and so much more.
The commitment is yours to make…
Ready to Start?
You can make this huge investment in your health by getting the total Easy Weight Loss program!
Price is $20 until midnight February 15th and then it's gone forever!
Take part in this Easy Weight Loss Program anywhere, anytime:
This is an online self-guided and self-paced protocol with daily email support so you don't have to do it alone.
As soon as you sign up, you'll get instant access to all these via email:
Weight Loss Guide – A comprehensive go-to guide with everything you need to know about easy weight loss. It includes everything from kicking bad habits that are hindering your weight loss efforts to restoring your digestive health and rebuilding your immune system.
7-Day at a Glance – Cheat sheet for your meals and recipes. Simply print it out, stick it in your planner and stay on track the entire week!
Weight Loss Recipe Guide – 20+ chef-approved, delicious, nutrient-dense, and easy-to-prepare recipes to fuel you through breakfast, lunch, dinner and the in-between.
Suggested Meals and Shopping List – The best part of this program! All your meals are planned out for you. All you need to do is print out the shopping list complete with everything you need to get ready for the week ahead!
Food Diary – A beautiful Food Diary template to help you reflect on how you feel after eating. Tracking your physical and emotional reactions after each meal is critical to the success of this program.
Weight Loss Tracker – A printable chart to track your body weight and measurements so you can easily monitor your progress and celebrate success!
Daily Email Support – Daily tips, inspiration, and encouragement to help you stay on track. Everyone needs a little nudge, especially when it comes to trying out a new lifestyle… and I'll be there with you every step of the way!
You can make this huge investment in your health by getting the Easy Weight Loss program for just $37!
What do you have to lose? (Except the kilos and addiction to bad food.)
Are you ready to tackle the 7 life-changing days that will leave you looking and feeling amazing?
It's time to become addicted to your health! You can, I promise! I want to show you how!
I've completed this program twice, for two weeks straight. The biggest outcome for me was getting rid of the sugar cravings. I used to crave sugar all the time! I think I'd eat it at every meal. Thanks to the tips in this program, I learned how to fill up on the right foods and drinks so that I won't get these cravings as often. Thank you so much for changing my life."
Note: It is important to consult your doctor before starting any new eating or exercise program. This is a clean eating program designed to teach you the difference between foods that inflame you and foods that fuel you. These statements have not been evaluated by the Food and Drug Administration.